Online Auction
Bid on Heat Treating and Shop Equipment
Inspection Date
Thursday, March 1, 2018 from 10:00am to 4:00pm
Auction Ends
Tuesday, March 6, 2018 at 10:00am
Location
2400 Racine Street, Racine, WI 53408
Directions
Take I94/41 South Toward Chicago. Take Exit 337 Toward County Road KR/Mt. Pleasant. Turn Left onto County Road KR (1st Street). Turn Left Onto 32N/Sheridan Road. Watch For Auction Signs.
Photos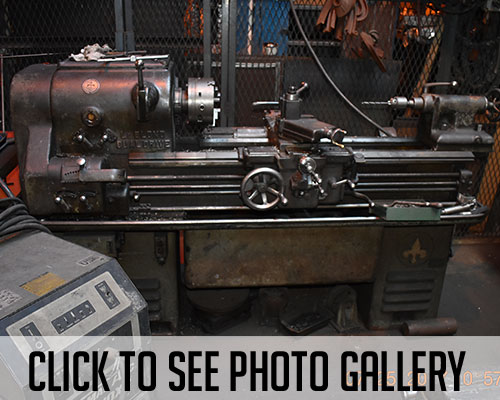 Terms
No warranties or guarantees. Cash, Cashier's Check or a Check only with a bank letter guaranteeing your check. No credit cards. 18% Buyer's Fee. Register to bid online at proxibid.com/gerlach.

Auction Items
HEAT TREATING EQUIPMENT
Custom Constructed (#12) Heat Treat Furnace, Gas & Electric, 36"L x 24"W x 24"H Working Envelope, 2 Preheat Chambers, 1-Cooling Chamber, 1-Evacuation Chamber, Ferritic Nitrating Chamber, Electric Cooling Table, Transfer Cart, Allen Bradley Panelview PLC (New) Control, Flow Panel
Lindberg (#20) Front Load Atmosphere Furnace, Model 243615-GVRT-1, s/n 13479, Gas Fired, 1750⁰F Max, Oil Quench, New Rails, Some Brick Work, Needs Tubes!
Hevi-Duty (#18) Front Load/Pass Through Furnace, Model H04G, s/n 97529, Gas Fired, 1850⁰F Max, Approx. 22"W x 35"L x 18"H Working Envelope, Oil Quench
Pacific (#19) Pass Through Temper/Draw Furnace, Model PKMD75-G-1, s/n P2400, Gas Fired, 1450⁰F Max, Approx. 24"W x 48"L x 26"H Working Envelope, New Burners
SFE (Standard Fuel Engineering) (#13) Drop In Temper Furnace, Model 5-28-64, s/n 805F, Gas Fired, 1300⁰ Max, Approx. 23" Diameter x 11"H Working Envelope
(#11) Ferritic Nitride Electric Drop In Furnace (Mfg. Unknown), Approx. 29" Diameter x 48 & 72"H (Unit Has 2 Lids) Working Envelope, Pit Mounted
Lindberg (#17) Electric Single Door Temper Furnace, Model 152418, s/n 402, 12KW, 750⁰F Max
Lindberg (#23) Electric Front Load Draw/Temper Furnace, 1500⁰F Max, Approx. 29"W x 47"L x 26"H Working Envelope
Custom Constructed Flame Hardening Table
Custom Constructed Wash Chamber, Approx. 39"W x 46"L x 29"h Working Envelope, Water Wash w/Oil Separator System
Roto-Blaster Shot Blaster w/36"W x 27" Diameter Chamber
Wheelbrator Tumble Blaster, Model Tumblast, s/n A729595, Needs Repair
Dust Collector, No Make, Model, s/n, Shaker, 2 Bin Discharge
2 Hole Glass Bead Blaster, No Make, Model, s/n, 38"W x 38"L x 30"H Chamber, Blast Hose, Foot Control
Electro-Deburr Co. Tub Deburrer, 52"L x 22"W x 24"D Tub, Coolant Spray Recirc System
Custom Constructed (#10) Gas Preheat Furnace, Approx. 10'W x 7'D x 7'H Working Envelope, Single Door Type, New Burners Installed, Unit Built In Place, Special Consideration For Removal Is Advised
Ipsen Pass Through Oven Shell (Parts!), Approx. 29"W x 120"L x 20"H, Good Brick Work!
Homocarb Drop In Furnace, s/n 22286, Shell Only For Parts
Flexible Power Straightening Press
Vibratory Deburrer, No Make, Model, s/n, 15"W x 35"L x 16"D Vibratory Bin
METALLURGICAL LAB EQUIPMENT
Wilson 4-TT-BB Rockwell Hardness Tester
Wilson 5-TT-BB Rockwell Hardness Tester
Wilson 3-204 Mobil Rockwell Hardness Tester
King Portable Brinells Tester
Sargent Chain-O-Matic Scale
Buehler Reumet I Mounting Press
Leco DS-20 4 Lane Sanding Station
Syruers DAP-U Pedemin Polisher
Leco M400 Hardness Tester
Leitz MM6 Micro-Structure Test Station
SHOP EQUIPMENT
Hypertherm Plasma Cutter, Model Max100, off line
Flammable Paint Cabinet
Craftsman Bench Top Drill Press
Replacement Hardware Cubie Bin Set
Baldor Belt/Brush Grinder, Pedestal Type
Combo Grinder/Buffer
Brown & Sharpe Model #5 8" x 24 Surface Grinder
Burr King 2-1/2" Belt Grinder
Cut Off Saw
(2006) Miller Maxstar 200 Tig Welder, s/n LG190129C
Century 230 amp Stick Welder
Geier #3 Screw Type Shop Press
50" x 70" Welding Table
LeBlond Dual Drill Engine Lathe, 14" Swing, 30" Between Centers
Carroll Jamison Engine Lathe, 15" Swing x 36" Between Centers
Gorton Vertical Mill, Mastermill, Variable Speed, DRO, 12" x 48" T-Slot Table
Famco Compound Mandrel Press, Model #3 1/2R
Ridgid 535 Pipe Threader w/Dies
Oxy/Acetylene Torch Set
Thermal Arc Plasma Cutter, PAK10XR w/Leads
(1999) Miller MIg Welder, Millermatic 300 Welder w/Leads
Linde Mig Welder, Model WI-253 w/Leads
MATERIAL HANDLING/AIR COMPRESSORS
Nissan Ride On Forklift Truck, Model KCPH02A25PV, s/n KCPH02P903225, LP Gas, 700# to 187" Capacity, 4,985 Hours, Needs Engine
Nissan Ride On Forklift Truck, Model KCUGHC2F30BU, s/n KCUCH02P901751, LP Gas, 5,425# to 169" Capacity, 5,703 Hours
Gardner Denver 10 hp Piston Type Air Compressor, Model HRV10-12, s/n D162581, 120 Gallon Horizontal Receiver-Like New!
CARGO VAN
(2007) Chevrolet Cargo Van, Express Cargo 1500, Vin No. 1GCFG15XX71201510, 4.3L V6 Gas Engine, 184,665 Miles