Online Auction
Kitchen, Medical (Dental & Assisted Living), Nursing Home, Exercise & Sport Equipment, Audio/Visual Equipment, Cabinetry, Etc.
Auction Starts
Monday, July 24, 2017 at 10:00 am
Inspection Date
Thursday, July 27, 2017 from 10:00 am to 4:00 pm
Auction Ends
Wednesday, August 2, 2017 at 10:00 am
Location
700 Hoffman Drive, Watertown, WI 53094
Directions
Take Hwy. 94 West, North Hwy 26, Left On Bernard Street, Left on Montgomery Street, Veer Slight Left Onto Fairview, Left onto Hoffman Road. First Entrance On The Right. Watch For Auction Signs!
Photos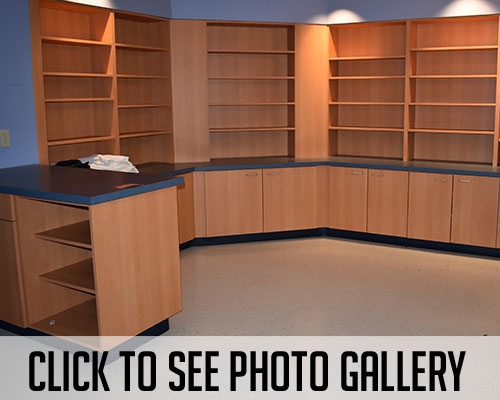 Terms
No warranties or guarantees. Cash, Cashier's Check or a Check Only With A Bank Letter Guaranteeing Your Check. No Credit Cards. 18% Buyer's Fee. Register to bid at proxibid.com/gerlach.

Auction Items
Kitchen Equipment
Hobart Industrial Dishwasher, Ft900-8d, Stainless Steel, Middleby-Marshall Rotating Deck Oven, Victory 28" Single Door Refrigerator, SS.,  Randall SS Refrigerated Cold Cart, True TR2RR-25 Commercial Refrigerator, Hobart 4-Door Walk Thru Refrigerator/Freezer, Hobart HV-1 Refrigerator, True TA-1FR1-75 Commercial Freezer, Hobart F1 Commercial Refrigerator/Freezer, True T23-2 Double Door  Stacked Refrigerator, True RT1RR1-15 Single Door Refrigerator, Hoshizuki KM-260-BHA Ice Machine, MB Master Bilt Ice Cream Cabinet, Koch 67" Commercial 2-Door Refrigerator/Freezer, True Refrigerator W/Glass Sliding Doors, True TS-23 Single Door Refrigerator, Vollrath Walk In Coolers, Blodgett FA-100 Warming Oven, Seco 3-Well Food Warmer, Cres Cor Micc B-15 61" Double Door Hot Food Cabinet, (2) Franklin Thermotainer Electric Food Warmers, Precision SS 2-Well Food Warmer, Hobart EF1 Heated Cabinet, Groen-Dover 60 Gallon Steaming Kettle, Model MW/DTA3-60-60, Groen-Dover 40 Gallon Steaming Kettle, Model 1V-DG/T/40-40, Groen-Dover 20 Gallon Tilting Steam Kettle, Groen 30 Gallon Electric Braising Pan/Tilting Skillet, Groen Hyper HY-6G Steamer, Irinox HC 51/20 Blast Chiller, (4) Sections Of Greenheck Ii 12'4" SS Vent Hood W/Grease Traps, Ansul R-102 Wet Chemical Fire Suppression System, 18' Sealo Lift Food Tray Conveyor, Stainless Steel Prep Tables, Rolling Carts, Shelving Units, Freezer Racking, Warming Pots & Pans, Aluminum Pots, Aluminum 15' Colanders, Stainless Steel Inserts, Utensils, Aluminum Baking Trays, Various Sizes, Hobart A-200 Mixer, Hobart L-800 Floor Mixer, Hobart Slicer, Univex 4512 Meat Slicer, Chefmate GC-10 Meat Slicer, Waring Commercial Blenders, Hand Mixers, Crock Pots, Wells Soup Cooker, Pitney Bowes 3700 Parcel Post Scale, Pelouze FS6 Food Scale, Stainless Steel 14' 4-Compartment Sink With 2-Stations, Rubbermaid Ingredient Bins, Cambro Insulated Food Pan Carriers, Cambro Insulated Coffee Dispensers, Lakeside Carry Dish Carts, Cam Spray Pressure Washer and Much,  Much More!
Medical, Exercise & Sports Equipment
Midmark 75l Power Dental Exam Table W/Green Upholstery, Electric Tooth Master, Balder Polisher, Harvey Chemiclave EC6000, Peri-Pro Daylight Loader, L&R Quantrex 140 Ultrasonic Cleaner, Medical Chair, Exray Viewing Light, S.S White X-Ray Tubehead, Biosonic Us100 Ultrasonic Scaler, X-Ray Aprons, SSCOR 2314 Vacuum Regulators, Eclipse 850 Ecg Machine, IV Stands, Oxygen Carts, Cabinet With  Dental Instruments, Programmable Food Control, Medical Supply Carts W/Supplies And Dental Tools, Magna Autoclave Sterilizer, Scales, Medical Beds, Bathing Equipment, Etc. Fitness Equipment; Vision Fitness Hrt R2600 Recumbent Bikes, R2600hrt, Fitness System Hoist H4400  Multi-Station, With 4 Stations, Fitness Vision T9700 Treadmills, Vision Fitness Hrt X6600 Elliptical Trainers, Mats, Etc., Sport Equipment; 52' Glass Front Basketball Hoops, Score Board, Basketballs, Gym Wall Mounted Mats, Tumbling Mats, Wave Master Free Standing Training Bags, Exercise Balls, Games, Etc.
Office Equipment, Furniture, Cabinetry, Lighting, Etc.
Partitions, Secretarial Chairs, Waiting Chairs, Tables, Many Wall Mount Cabinets With Laminate Tops, Copy Machines, Stage Curtains, Piano, Etc.
WATCH FOR ADDITIONAL INFORMATION ON OUR ONLINE & ONSITE AUCTION WEDNESDAY, AUGUST 9th, SAME LOCATION!