Online Auction
Cyclesmith, LLC
Auction Starts
Wednesday, August 5, 2015 at 10:00am
Inspection Date
Thursday, August 6, 2015 from 10:00am to 4:00pm
Auction Ends
Wednesday, August 12, 2015 at 10:00am
Photos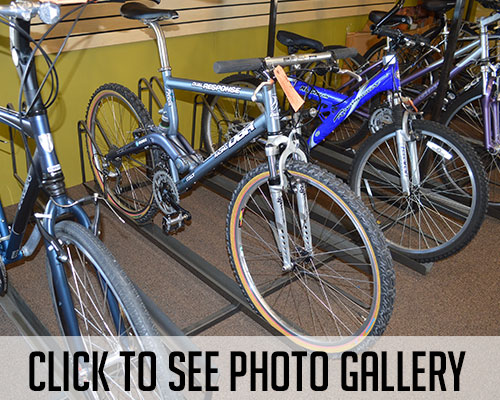 Location
1314 S West Ave, Waukesha, WI 53186
Terms
No warranties or guarantees. Cash, Cashier's Check or a Check Only With A Bank Letter Guaranteeing Your Check. No Credit Cards. 15% Buyer's Fee. Register To Bid at Proxibid.com/Gerlach.

Auction Items
Bike Shop Items
Waterford "Fit Master" Bike Fit System
Polycom Phone System
Samsung 42" Flat Panel TV
(2) 2 Place Park Bike Stands w/Seat Post Vises
(3) Park TS2 Wheel Truing Stands
Good Selection  of Specialty Tools by Park (Facing Tools, Alignment Tools, Race Pullers, Etc.)
Workbenches
Glass Display Cabinets
Rolling Slat Board Displays
POS System
"Open", "Giant", "Gary Fisher" Neon Signs
Free Standing Bike Display Racks
Double Decker Bike Display Racks
Service Bike Storage Racks
Misc. Banner Advertising
Yamaha Shop Stereo w/Speakers
Bicycles/Trail-A-Bikes
Giant Boulder Mountain Bike
Diamond Back 7005 Dual Response Mountain Bike
Trek 7300 Hybrid Bike
Trek Lexa S 50CM Women's Road Bike
Roadmaster Mt. Storm 24" Childs Mountain Bike
Trek Mod Trike Tricycle
Adams Trail-A-Bike Folding Trail-A-Bikes
Bicycle Accessories
Topeak Quick Track Bags
Horns
Bells
Lights
Saddle Packs
Handle Bar Bags
Planet Bike Fenders
Salsa
Planet Bike
Lizard Skins
Bontrager Handle Bar Tape
Water Bottles
Cages
Wheel Bags
On-Guard Locks
Consumer Park Tools (Tire Levers, Cone, Wrenches, BB/Casset Tools, Crank Wrenches/Pullers, Single Speed Spanner, Etc.)
Saris Bike Racks
Hammer Supplements Rack W/Gels
Electrolyte Drink Mixes
Recovery Drink Mixes
Bicycle Parts
Mavic Aksium Wheel Set

Giant RR2 Wheel Set

Tires by Kenda, Panaracer, Michelin, Shimano,
Crank Brothers

Pedals

Bontrager Saddles

Fizik Tundra 2 & Antares Saddles

Huge Selection of Service Parts (Kick Stands, Seat Posts, Forks, Brakes, Shimano/Sram/Campy Cassettes)

Spokes-DT, Wheelsmith, Bontrager

Derailleurs, Bottom Brackets, Cranks, Stems, Skewers, Training Wheels, BMX Pegs, Cable, Cable Housing, etc!
Cycling Shoes
Men's & Women's Cycling Shoes by Bontrager-Models: Solstice, RL Road, Race DLX/WSD, SSR-Multisport WSD, RL Mountain, RXL-Hilo, RXL Road & Trans, Shimano-Models: SH-MT41G, SH-R098A, SH-R085, SH-R32L, SH-M+40WL, SH-MT40, SH-R085W, SH-R133L, Mavic-Models: Cyclo Tour, Zoya
Complete Fizik 3D-Flex Moldable In Sole Station w/Sidas Tech Flash Fit Oven w/All Foam Step Pads, Insoles & Pedestal
Helmets
Adult & Youth Helmets by Giro Models: Rascal, XAR, Hex, Savant, Styluis, Bontrager-Models: Big Dipper, Solstice, Quantum, Kali-Models: Maraka, Chakra, Bell-Models: Trinity, Array, Faction, Furio, Lumer, Arella, Sweep, Variant, Octane
Cycling Apparel
Adult & Youth Cycling Apparel by Bontrager-Jerseys, Bibs, MTB Shorts, T-Shirts, Jackets, Vests, Craft-Jerseys, Bibs, Mt. Borah, Jerseys, Women's Cycling Skorts, Arm Warmers, Tifosi & Adidas Eye Wear, Cycling Gloves, Etc.