Auction Online Only
Inspection Date
Wednesday, February 22, 2017 from 10:00 am to 4:00 pm  
Auction Ends
Tuesday, February 28, 2017 at 10:00 am
Location
39526 Marks Road, Oconomowoc, WI 53066
Directions
Take Hwy. 16 West Thru Oconomowoc To Marks Road (Past U-Haul Before Quick Trip). Turn South on Marks Road To Address.
Photos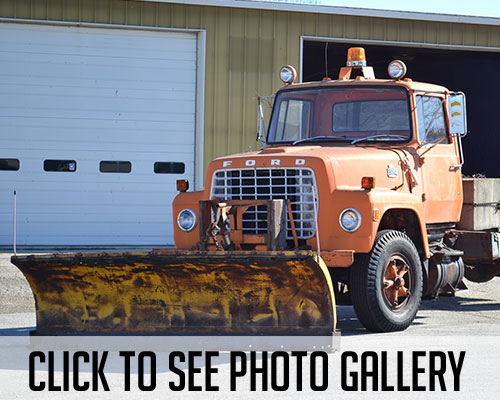 Terms
No warranties or guarantees. Cash, Cashier's Check or a Check Only With A Bank Letter Guaranteeing Your Check. No Credit Cards. 18% Buyer's Fee. Register to bid at proxibid.com/gerlach.

Auction Items
Motorcycle
(1979) Honda Super Sport Motorcycle, Model CBX1047, Vin no. CB1E2000613, 360 Capacity, Double Overhead Cam, 24 Valves, 106 hp Gas Engine, 1147cc, 22,669 Miles
Office Equipment
Office To Include But Not Limited To: Misc. metal 2 drawer standard file cabinet, metal 4 drawer standard file cabinet, oval table, (2) secretarial chairs, whirlpool dorm style refrigerator, HP Officejet 4630 all in one Printer, AT&T Clover microcell, etc.
Automotive Equipment
Welding Helmets
Forney 6011 1/8" Welding Rods Deep Penetrating
Semi-Tractor Transmission Jack, 1,500# Capacity
(2) Hand Trucks
(2) Pairs of Floor Jack Stands
Black Jack 3 Ton Jack Stand
3 Ton Floor Jack, Blue
(2) 10 Ton Floor Jacks, White
Hydraulic Shop Press, Custom Made
Squirrel Cage
Super S Hi-Temp Red Lighium NLG1 2 Grease Guns
Honda EB3500X Generator, Electronic Ignition
Steel Oil Stand, Oil Barrel, Approx. 500 Gallon, Pump/Hose
Speedaire 5F235E Air Compressor, 175-200 Gallon Tank, 5 hp, 175 PSI Capacity
Sandblaster Bench Top 2 Hole
Zep Dry Clean Parts Washer
Light-O-Matic Retractable Cord Reels
Cummins C114 12 Speed Heavy Duty Drill Press, 5/8" Capacity, Floor Type
Hotsy Pressure Washer, Model 0612, 1.1 hp, 1 ph
Speedaire 5F2356 Air Compressor, DK639701, 2 Stage
NAPA 85-500 Battery Charger & Starter, 6/12/24 Volt
Solar 480 6/12 Volt Battery Charger & Starter
(2001) Bend-Pak 2 Post Lift, Model XL-9CX, s/n 10088, 9,000# Capacity
Mac Tools 10 Drawer Tool Box on Casters, 16"D x 27"W x 43"h, Upper 10 Drawer Tool Chest, Misc. Contents: Wrenches, Pliers, Screwdrivers, Etc.
Shop Room w/Parts Bins & Contents: Parts, Nuts, Bolts, Brass Fitting, Grease Fittings, Speed Nuts, Lawson Wire Rack w/Wire Cable, Belts, Metal Compartment Bins, Metal Parts Storage w/Drawers, Flammable 2 Door Storage Cabinet, 30 Gallon Capacity
Matco Tools Maximus 2.0 Tablet Scanning Tool w/Docking Station
White Industries R134A/R12 Recover Recharge Air Conditioning Equipment, Model 1234XL, s/n GHW341153, 115 AC, 6 0HZ, 10 Amps
Advance Tool Design ATD-8699 21 Piece Master Ball Joint Service Set
Red Barrel w/Synthetic Blend, 10W-30 Motor Oil
Misc. Shop Support: Storage Cabinets w/Motor Oils, Step Ladder, Wagner Lighting Cabinet, Heileman's Old Style Clock, Clamps, Portatree Timing System, Stack On Tool Cabinet w/Chest On Casters, Weldan Power 150 AC Power Generator
Mobile Stairs, 11 Step
Shop Equipment
Lincoln Arc Welder, Model AC-225-S, Code 7050-212

Lincoln AC 225 Amp Lincwelder, Code 7533-804

(1995) Miller Millermatic 250 Wire Welder, s/n KF848796, Airco Midget Aircomatic Spool
Gun, Model AH20-E, Acetylene Tank

Hydraulic Portapowers, 10 Ton

Custom Made Air Tank

Pony 3.5" Light Duty Vise, 23530, Swivel Base & Anvil

Acetylene Cart, Tank, Hose & Gauges
Steel Work Benches
Hand Tools
Ingersoll Rand ¾" Pneumatic Impact Wrench

Ingersoll rand 1" Pneumatic Impact Wrench, Model 285A-6

Heavy Duty Semi-Tractor Socket Sets

Porter Cable Electric 4" Angle Grinder

Milwaukee Heavy Duty 14" Abrasive Cut Off Machine, Cat No 6176-20, s/n 9680904

Central Tool Torque, ¾" Drive, 600# Pull

Dewalt Electric D28474 7"Angle Grinder

Milwaukee Electric 7" Heavy Duty Polish Grinder

Milwaukee Heavy Duty Sawzall w/Case
Testing Equipment
NAPA Service Tools Double Flaring Tool Kit

Mityvac MVA6850 Pressure Bleed Adapter Kit

Mityvac MV730 Pneumativac Air Operated Fluid Evacuator

Mityvac MV6400 Fluid Dispenser
Forklift
Clark Forklift Truck, LP Type, 1,825 Hours Indicated
Yard Truck
Ford 800, Vin F80C7EK4379, 429 Diesel Engine, Allison Automatic Transmission, 10' Hydraulic Snow Plow, Single Axle, Dual Wheel, Yard Only, Needs TLC, Tire Chains
Watch for these items to be sold in the future!!
(1969) Red Corvette, Sting Ray, Hardtop & Soft-top, 427 Engine, 500 hp, 4 Speed Transmission, 92,000 Miles, Modified: Engine, Suspension, Side Exhaust, New Herst Shifter, Power Brakes, Power Steering, Electric Fans For Radiator, 8 Cylinder, 2,154 Produced
(1988) Corvette, Fiberglass, Tube Chassis (Round Steel Bar), Engine Needs Repair, Transmission Needs Repair, Additional New Parts: Belt Drive System, Comp Cams Roller Lifters, Magnetic Pickup For Engine, (2) Cylinder Heads, Innovate Motorsports Wide Band air/Fuel Ratio Meter, Internal Data Logging
Collectables to be sold in the future!!
(1978) Jim Beam White Corvette, Full Size Decanter (Never Opened)

(1978) Jim Beam Red Corvette, Sting Ray, Full Size Decanter (Never Opened)

(1984) Jim Beam Red Corvette, C4, Full Size Decanter (Never Opened)

(1963) Jim Beam Red Corvette, Sting Ray, Full Size Decanter (Never Opened)