Online Auction
Bid on dump trucks, pickup trucks, water trucks, highway trucks, tractor trucks, trailers, hydraulic excavator, skid loaders, wheel loader, paver, street broom trucks and more!
Auction Starts
Tuesday, May 31, 2016 at 10:00 am
Inspection Date
Wednesday, June 1, 2016 from 10:00 am to 4:00 pm 
Auction Ends
Tuesday, June 7, 2016 at 10:00 am
Terms
No warranties or guarantees. Cash, cashier's check or a check only with a bank letter guaranteeing your check. No credit cards. Register to bid at Proxibid.com/Gerlach.
Photos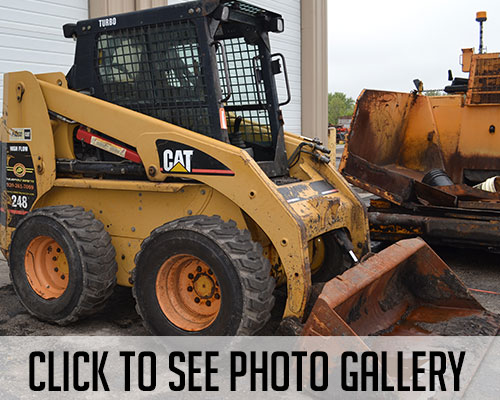 Location
W1324 Cedar Drive, Ixonia, Wi 53036
Directions
Take Hwy. 16 West To Hwy. F. South On F To Elmwood. West On Elmwood To Cedar Drive. Right On Cedar Drive. Follow auction signs.
Auction Items
Trucks
(1990) Ford Tandem Axle Plow/Dump Truck, Model L-8000, VIN 1FDYY82A0LVA48939, Cummings Diesel Engine, Automatic, W/12' Plow
(1977) International Tandem Axle Dump Truck, Model Fleetstar 2050A/F-2010A, VIN D1322GGB25861, Model V537, Gas Engine, 5 Speed Transmission, 12 Yard Box,
 (1996) Ford Single Axle Plow/Dump Truck, Model L-8000, VIN 1FDYR82E7VVA03211, Cummins A3 Diesel Engine, Spicer 7 Speed Transmission,
(2002) Ford Extended Cab Pick Up Truck, Model F250 XLT Super Duty, VIN 1FTNX20l32EB35843, 5.4L Triton V8 Gas Engine, Automatic, Cloth, A/C, Work Boxes,
Diesel Refueler
(1994) Chevrolet Extended Cab Pick Up Truck, Model S10, VIN 1GCCS19Z9R8180768, 4.3L V6 Vortec Gas Engine, Automatic, A/C
(2002) Ford Extended Cab Pick Up Truck, Model F250 XLT, Super Duty, VIN 1FTNX20l22EB32416, 5.4L, Triton V8 Gas Engine, Automatic, Cloth, A/C, Work Boxes, Diesel Refueler
(1981) Mack Tandem Axle Water Truck, Model R600/R-686-St, VIN 1M2N179YXBA073745, Mack 300 HP Diesel Engine, 5 Speed, 2600 Gallon Capacity, Pump With Honda Gas Engine
(1995) GMC Highway Truck, Model 3500 SL 4 X 4, VIN 1GDHK34FXSE507020, 6.5L, Diesel Engine, Automatic, DRW, Service Body Box, Traffic Arrow With Wanco
Arrow Board Control
(1978) Mack Tandem Axle Tractor Truck, Model R-600, VIN R686ST18806, Mack 300 HP Diesel Engine, 5 X 2 "Twin Stick" Transmission, Wet Kit
(1978) Mack Tandem Axle Tractor Truck, Model R-600, VIN R685ST73093, Mack 237 HP Diesel Engine, 5 X 2 "Twin Stick" Transmission
(1988) Chevrolet Crew Cab Pick Up Truck, Model 3500, 4 X 4, VIN 1GCHV33K5JJ129270, 350 Ci Gas Engine, Automatic, DRW
(2005) GMC Crew Cab Pick Up Truck, Model Sierra 2500 HD SLE, 4 X 4, VIN 1GTHK23265f911265, 6.6L Turbo, Duramax Diesel Engine, Allison Automatic Trans-
Mission
(1996) Chevrolet Extended Cab Pick Up Truck, Model Cheyenne 2500, 4 X 4, VIN 1GCGK29R1TE202083, 5.7L Vortec Gas V8 Engine, Automatic, W/MW Enterprises
Hydraulic Snow Plow
(1997) Ford Single Axle Plow/Dump Truck, Model L-8000 Louisville, VIN 1FDYN80E0WVA06922, Cummins 8.3l, Diesel Engine, Spicer 7 Speed Transmission,
12' Snow Plow W/Wing, 8 Yard Box
(1989) Ford Single Axle 10' Contractor Dump Truck, Model F Super Duty Custom, VIN 2FDLF47M7KCB35544, 6.9ll Diesel Engine, 5 Speed Transmission, DRW, W/ 8'
Plow
Trailers
(2002) Towmaster 20' HD Trailer, Model T-16DD, VIN 4KNUT20202L161849, Tandem Axle, Flip Down Ramps, Wood Deck, Tie Down Box, Electric Brakes, Pintle Hitch, 19,900# GVWR
(1984) Dynaweld 22' HD Deck Over Tilt Top Trailer, VIN 19K71AEX6E1X21238, Tandem Axle, Dollies, Flip Down Ramps, Wood Deck, Air Brakes, Pintle Hitch, 20,000# GVWR
(1996) Belshe 17' Beaver Tail HD Trailer, Model T-1, VIN 16JF01525T1028535, Tandem Axle, Flip Down Ramps, Wood Deck, Electric Brakes, Pintle Hitch
(1986) Dorsey 48' Dry Box Van Trailer, Model AIDT-86-LSM, VIN 1DTV11X27GW024435, Tandem Axle, Flip Doors (Unit Needs Brakes)
Skid Loader/Hydraulic Excavator/Wheel Loader
(1992) Komatsu Hydraulic Excavator, Model PC-300-LC-5l, S/N A70836, Diesel Engine, 31.5" Pads, 55" Bucket, Aux Hydraulics
(1965) Caterpillar Articulated Wheel Loader, Model 950, S/N 90A-326, Cat Diesel Engine, 4 X 4, 104" Bucket
(2003) Caterpillar Skid Loader, Model 248 Turbo, S/N CAT00248h6lz01848, Cat Diesel Engine, Enclosed Cab, Heat, High Flow Auxiliary Hydraulics, 72" Bucket,
Paver/Motor Graders/Tar Kettle/Rollers
(1997) Caterpillar Dual Drum Vibratory Compaction Roller, Model CB-224C, S/N 3AL 01043, Hatz 2 Cylinder Diesel Engine, 47"W Rollers, Vibe Type
(2005) Bomag Dual Drum Vibratory Compaction Roller, Model BW-900-2, S/N 901800011127, Honda GX 620 Gas Engine, 35.5" Rollers
(1989) Crafco Tar Kettle, Model E-Z Pour, S/N 89-1-089-2ep, Isuzu Diesel Engine, LP Gas Type, Tandem Axle Trailer Mounted, Pintle Hitch
(1989) Blaw-Knox Asphalt Paver, Model PF-150, S/N 15003-02, Deutz Diesel Engine, 8' Basic Screed, 2' Hydraulic Extensions
(1981) Broce Broom 72" Street Broom, Model W-20, S/N 2078, White Diesel Engine, Hydraulic Drive, Enclosed Cab w/A/C
(1987) Blaw-Knox Asphalt Paver, Model PF-500, S/N 50013-18, John Deere Diesel Engine, Basic 10' Omni III w/(2) 4' Extensions
(1987) Fiatallis Motor Grader, Model 65B, S/N 68C-04003, Fiat Diesel Engine, 10' Blade
(1966) Caterpillar Motor Grader, Model 12 Series F, S/N 73G501, Cat Diesel Engine, 14' Blade