Online Auction
Bid on maintenance equipment, landscaping equipment, boilers & generators
Auction Starts
Wednesday, August 2, 2017 at 10:00 am
Inspection Date
Thursday, August 3, 2017 from 10:00 am to 4:00 pm
Auction Ends
Wednesday, August 9, 2017 at 9:00 am
Location
700 Hoffmann Drive, Watertown, WI 53094
Directions
Take Hwy. 94 West, North Hwy 26, Left On Bernard Street, Left on Montgomery Street, Veer Slight Left Onto Fairview, Left onto Hoffman Road. First Entrance On The Right. Watch For Auction Signs!
Photos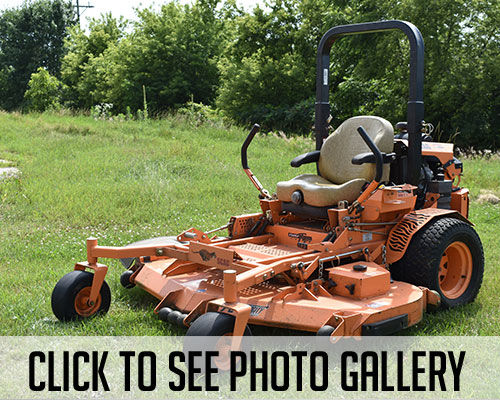 Terms
No warranties or guarantees. Cash, Cashier's Check or a Check Only With A Bank Letter Guaranteeing Your Check. No Credit Cards. 18% Buyer's Fee. View our catalog and register to bid at proxibid.com/gerlach.

Auction Items
Maintenance & Landscaping
New Holland LS160 Skid Steer Loader W/ Fork, Skid Steer Buckets, Skid Steer Plow, KUBOTA F3680 72" Commercial Front Mount Mower With Cab, Kubota Sweeper, Vacuum, Blower, Attachments, Kubota Cab Doors (NEW),   Scag SMT-72VS 72" Commercial Zero Turn Riding Mower, John Deere X320 Lawn Tractor, 2-Wheel Steer, 22 HP, John Deere Pull-Behind Utility Trailer's ,  Snow Blower's, Outback Brush Cutter, Salsco Truck Mounted Vacuum 716, Stihl Chainsaw's, Trimmer's, Back Pack Blower's, Pruner, etc. Shovels, rakes, Commercial Floor Maintenance; Castex PE 1000 Rug Shampooer, Power Eagle 1020 Carpet Extractor, Rug Shampooer's, Noble Floor Scrubber's, Clarke floor varnisher's and polisher's, Shop Equipment; (2) Eagle Safety Storage Cabinets, 45 Gal. Capacity, Racine Shear-Cut Hacksaw, Smaller Brake and Shear, Shop Press, Stock, Lincoln Electric SP-125 Plus Welder, Acetylene Cart W/Hose and Gages,  Shop Tables, Hardware, Fiberglass Ladders,  Landscaping; Gazebo, Shrubs, Perennials, Misc. Cabinetry, Railings, Light Fixtures, Much More.
Boilers, Chillers, Generators & Air Compressors
BOILERS: (2) Clever Brooks Watertube Boiler, Model D-42, Pressure P.S.I. 260, Unit NO. WL-2689, Boiler SQ. FT. 1915, Waterwall SQ. FT. 381 Cleaver Brooks  Burner, Model WT200X-BR2, SN WL-2689, Burner 460V/3PH/60HZ, Control 115V/1PH/60HZ, 35014 BTU/HR. Natural Gas, NO. 2 Oil, 100 P.S.I., CHILLERS; (2005) McQuay Chiller, Model C2612BLYY2-A, SN WA5410003, STYLE-OSC087S95CD-1 (2005) McQuay Chiller, Model E3012BE2P, SN WA5310004, STYLE OSC087S95EV-1 W/McQuay WSC087-BAABBC Control Box, (2005) McQuay Chiller, Model E3012BE2P, SN WA5310003, STYLE OSC087S95EV-1, (2005) McQuay Chiller, Model C2612BLYY2-A, SN WA5310004, STYLE OSC087S95EV-1, W/Chillgard RT Control Box
GENERATOR: (2001) Kohler Power System Fast Response Generator, Model 135ROZJ, SN 0716832, 135 KW, 60HZ/1800-RPM, Fuel John Deere Diesel Engine 13PH, 302 Hours Indicated, Kohler Generator Set, Model 60ROZ81, 60KW, 120/208V/3PH/60HZ/1800RPM, Dresser Enginator, Model VS700DS, SN RU17682, SPEC NO. E2134, 1800-RPM, Enginez VS700DS, SN 0604, W/Waukesha Engomatic Control, Model 2000, 526APM/DC5/240/139VOLTS/3PH, 553 Hours Indicated (2) Evapco AT Cooling Towers, Galvanized Steel Construction
AIR COMPRESSORS: (2015) ICP Independent Compressor Partners Air Compressor, Model DB53H124-E, SN 032316-0664, Pump: CA1, 175 PSI, Pump Oil: 30100 30W SYN, Voltage 208-230 VOLT/ 3 PH, Horizontal Tank, With ICP Air Dryer, Model IRDE0035A115, SN 15S008261/15, 35 SCFM, PS 232 P.S.I, Quincy Air Compressor, Model 0005012D, (1996) Quincy 2 Stage Reciprocating/Piston Air Compressor, Model; MQR350ST10HP, SN 5073938, 10HP, 200V/3PH, 120 Gal.  Horizontal Tank, 33 CFM/ 175 P.S.I., Quincy 5hp Duplex, Model QC05012D, SN 5049115, Hankison SPX Air Dryer, Model HPR25, NEW IN THE BOX, Culligan System, ETC.